NEW SERVICES AT ANDREW MARKE SALON ALL LOCATIONS
Maximum Quality, Maximum Care, Maximum You.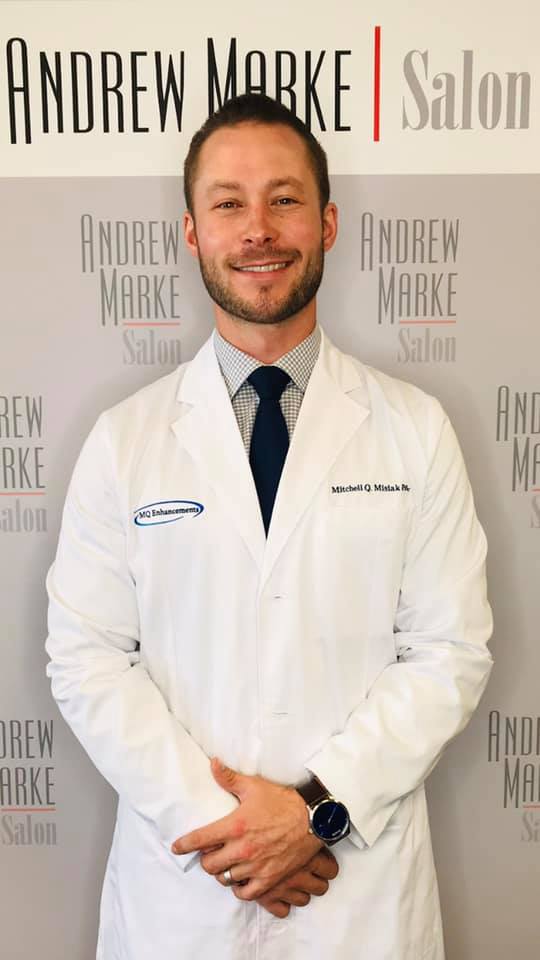 Meet Mitchell Misiak, PA-C. A board certified and actively practicing Physician Assistant in the state of Michigan, Mitch has been practicing medicine in Southeast Michigan for over 7 years. With an undergraduate degree in Health Sciences from Oakland University and a graduate degree from Wayne State University, his experience and training in anatomy and aesthetics will put you at ease. With an unwavering focus on safe, effective and appropriate care, MQ Enhancements strives for the most natural and reliable results every time. Only using the most well-known and reputable brands on the market, MQ Enhancements refuses to sacrifice quality for price and can guarantee your results will last. Mitch has now partnered with Andrew Marke Salon as our cosmetic injection specialist and will be offering the following services;
Cosmetic Botox injections

Primary indications include forehead wrinkles, frown lines and crow's feet. Further indications may be right for you after a formal consultation and exam.

Dermal Filler injections

Lines or wrinkles around your nose and mouth causing you to look older than you feel? Do your lips not have the volume or shape you wish they did? Wish your cheek bones stood out more despite extensive contouring? Does your jaw line feel non-existent or undefined? With an experienced injector and the reputable Juvederm family of dermal fillers, all of your facial features can be enhanced to attain the aesthetic you desire.

IV Drips

Have you had a long weekend or maybe even a rough few months? Have trouble staying hydrated on a daily basis? Wish your skin had the youthful appearance it once had? IV drips are the perfect way to get your body back to where it belongs. Hydration, skin health, rejuvenation, overall well-being; the benefits are endless and the results can't be found with any cream or oral supplement.

Therapeutic Botox injections

Severe primary axillary hyperhidrosis. It's more common than you think and its totally correctable. Many people, despite dozens of different over-the-counter or prescription anti-perspirants, can't help but feel embarrassed to raise a hand in the air.
Call today to schedule a FREE NEW PATIENT CONSULTATION. Whether you've heard about it from your friends or you've had it before and can't wait to get treatment again, we've got you covered!
Prices vary based on package chosen and treatment desired after formal consultation
---
---